Interest Rates Have Risen Some, What Does That Mean? Of course when an in, terest rises the monthly payment on a loan or mortgage also rises. What is the actual impact? In my case, maybe yours too, my spouse would grumble as she closely watches the monthly payment commitment amount that we make.
Aaron Morgan, a preferred mortgage lender by some builders, many REALTORS®, and myself provides a chart to help visualize the impact of a rate increase. I provide here a snippet from that chart.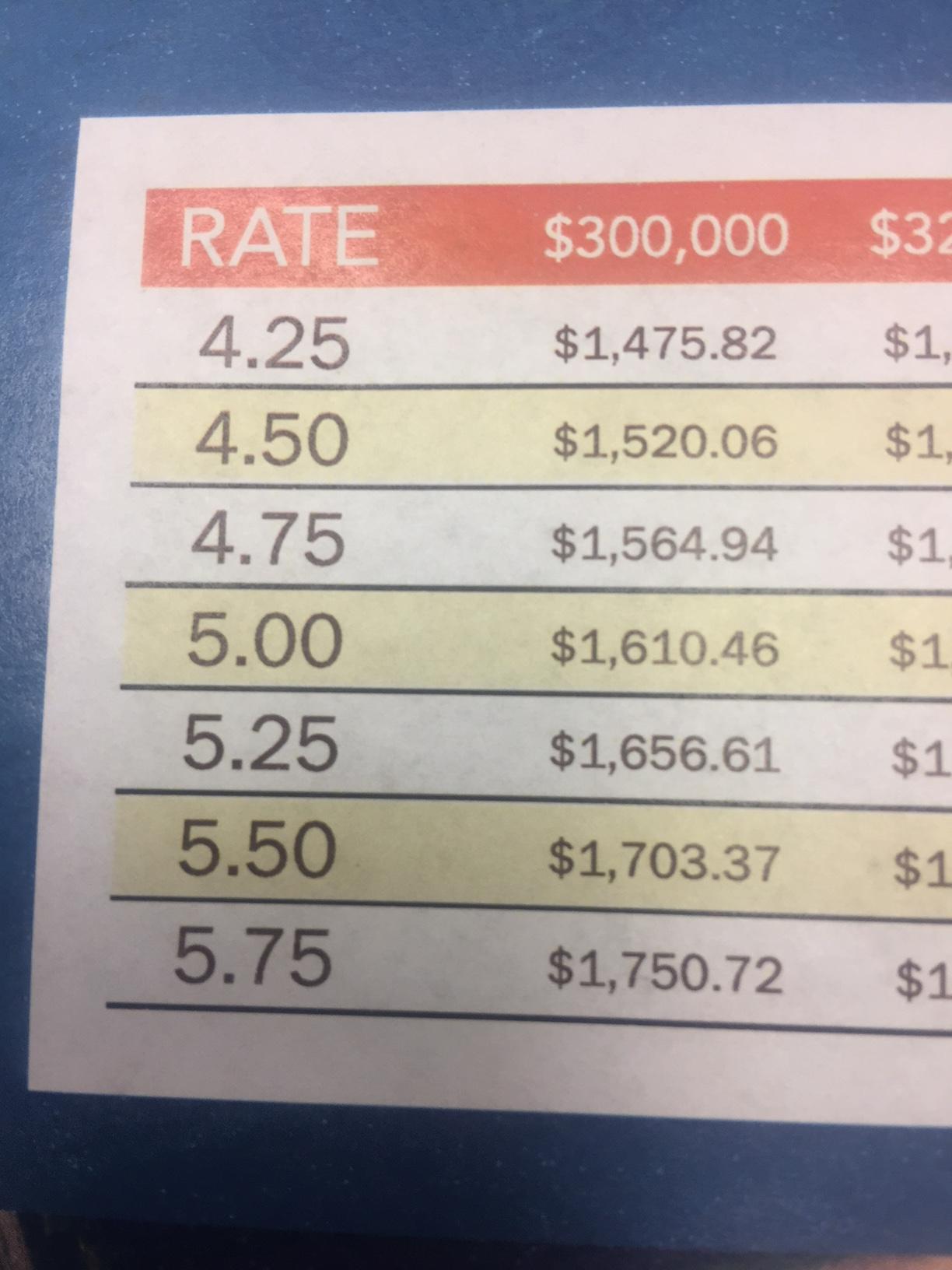 So, on a $300,00 mortgage a 1/4 % rise in interest rates is almost $50.00 per month. Yes, that an ouch but beyond that what impact can that have on your new purchase?
Does it keep you from buying the home you have targeted? The answer is not usually. It can push the ratios too high to comply with the automated underwriting approval that lenders begin with in  issuing an approval. In the many years that I originated loans I rarely was in a situation where we were pushing the maximum to the point a small rise in interest rates killed the transaction. My advice is if you are in a situation that is so borderline, do all you can do to get to the point where you can lock your rate in.
There are two ratios that lenders consider. The first is  your income vs your house payment and the second ratio adds your monthly debt payments to your housing costs vs your income. Sometimes paying of debt, or getting the payment reduced is a way to counteract the effect of an interest rate rise. A third way to deal with this issue is to buy your interest rate down. The is never just one rate you can secure. All lenders have the ability to select a rate that costs you more in fees to get a lower rate. Sometimes this is the best way to lower your payment.
People resist adjustable rate mortgages but Aaron currently has an excellent 7 year adjustable rate mortgage. It's probable that you spend less money on a 7 year adjustable if you keep it for 9 or 10 years. This lowers your  payment for at least 7 years and can be refinanced during that period should it be your desire.
We have been in a historical and artificial low rates period. In past times rates being higher were accaptable. My first home purchase was at a 10.625 rate. As rates went down I refinanced.
Treat interest rates as just a fact of life. Don't expect to lock at the bottom. It isn't worth the stress. Don't get sucked into low rate advertising. Deal with a lender referred by a real estate agent. In my case I recommend Aaron Morgan. He's dependable and if you use my name you won't get any special deals, but use it anyway. Aarons phone number is 801-560-8162