..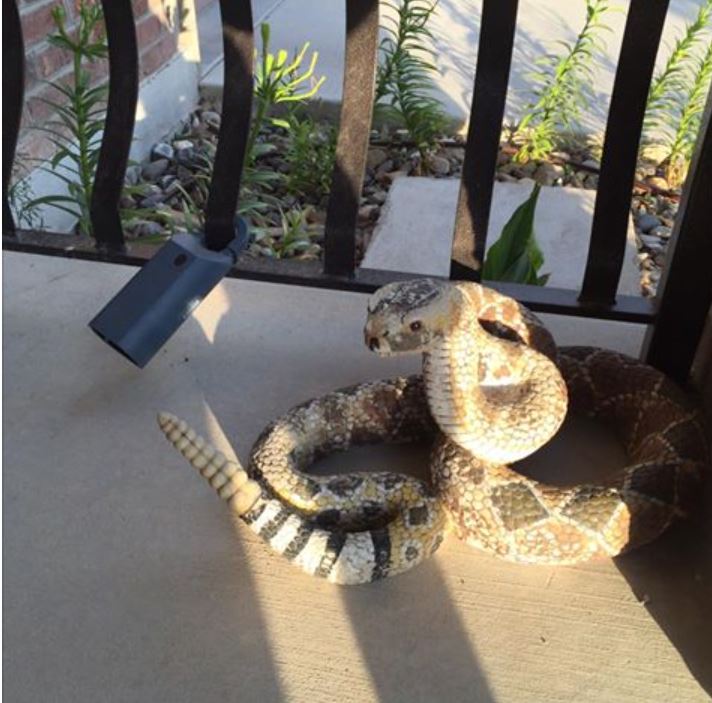 .
Sales Prevention Program issues are usually quite different than this one. This one is a doozy one might say. There are lots of reasons to stop viewings, which of course is the key to finding the right buyer. Please notice that you have to get past the snake to get to the Supra lock box. Oh dear, he's not real. It's a prank.
As a listing agent we are responsible to create home shopper traffic to see the home. The more people that see the home the more likely just the right buyer is likely to walk in.
This photo was put in our Facebook Group by an agent that turned around and ran. He didn't bother to find out and went on to another property. The photo was taken with his special lens.
Maybe this was all for fun but in fact it caused a potential buyer, maybe the right buyer to move on to see other properties.
Now you may not be doing the rattlesnake thing but what do you do to get your home in tip top shape to sell? Is it free of clutter? Is there too much furniture in the home? Is it clean? I learned a hard lesson on a home purchase when I was a young guy. Every time we went to preview the property the sinks counters were piled high with dishes. It was impossible to see the counter tops. It didn't dawn on us that the dishes were hiding something. They were, they were hiding a kitchen counter that had rotted out. The entire counter top needed replacing. Was it a big deal, not really, but had we know the situation we would have required them to replace it or compensate us for having to do it ourselves.