Seniors – Is Your Current House The Right House?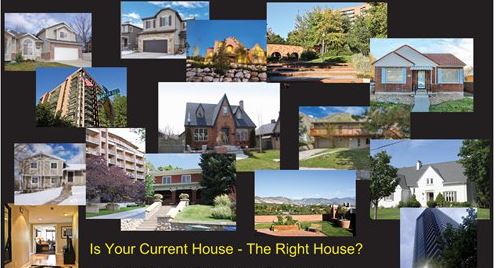 For some this may open up an exciting new dream. The ideal person is over 62, home free and clear, healthy, and willing to dream about the yes, "dream home".
In Salt Lake City it is pretty impossible to find a decent home for $300,000.00. There are first time home buyers out there scouring the new listings for such a home. Sadly, when one comes on the market so many are after this home multiple offers are the norm. So instead of finding the $300,000 home  you are in a bidding war against what can be 30 competitors. Good bye to the $300,000 hope. Tooele County is the 7th fastest growing County in the US. Why is that? Prices. You get more for the money over there. However, my experience is that many won't live there. So buyers remain renters in many cases. In others, they luck out and win the bidding war.
OK, lets say that you own such a home. Is this home really the right home for you? Does it take more yard care than you want? Is it a multiple level home and you are tired of stairs? Have you been online or to the Parade of Homes and dreamed of a new home, even a home you can't afford?
Well, dream on senior citizen. Your current house, free and clear, can launch you into a new dream house with no new house payments. What? Yep!
First, take a look at what you can purchase for between $550,000 and $650,000, click here. These are all single level living homes.
So how do I pull this off for you with no payments. It's with a government program for senior citizens. The program allows those 62 or older to put about 1/2 down and forego any mortgage payments. The older you are, the less you put down. For example: age 70 puts less down, 44.9%.
Because the program is not the norm, the common immediate reaction is NO, this isn't for me. I suggest that if you do have a dream of a different home, open your minds to this program. I can help you decide if this is actually right for you. I can help you over your questions. I believe in this program. To me, it's a wonderful solution for many, very many.
Seniors – Is Your Current House The Right House? It might not be. I can help you figure this out. 
Larry Cragun – Windermere Real Estate
Residential and Condominium Professional.
I am posting this article because there is a place for reverse mortgages that can be a situation saver. Time Place Reverse Mortgage
There was a period of time that reverse mortgages were sold in a way that they harmed people. This resulted in a lot of negative press and word of mouth. They aren't the cheapest loan to obtain when it comes to the cost to obtain one.
However, there are definite situations where a reverse mortgage is a life saver. Here are a few examples.
1- Problem: Three siblings, all over 62, have inherited their parents home. Two of them are living in the home and don't want to sell or move. The third sibling wants them to sell or in some way come up with her share of the homes value. As things are with the two occupying the home there is no way to do that. There seems to be no acceptable solution.
Reverse Mortgage to the rescue: The home is free and clear. The siblings living in the home can secure a reverse mortgage to pull the cash out for their sister. It is even possible that the two living in the home still have the ability to receive a monthly payment from the reverse mortgage.
2- Problem: A retired couple has a rental home with a small mortgage on it. (About 25% of its value) They also have a line of credit on a home they purchased to be there principle place of residence. They are thinking that they need to sell the rental property but doing that only pays off a portion of their total debt. There isn't enough equity to bring them free and clear, void of all monthly mortgage payments. They wish to relieve themselves of any monthly payments.
Reverse Mortgage to the rescue: When they sell the rental property it leaves them short of being debt free. However, they aren't that short. Their cash receives will pay off the rental and significantly pay down their primary residence. This amount of equity allows a reverse mortgage to pay off the loan on their primary residence and would even provide monthly income for the rest of their lives.
3- Problem: A senior coupe is renting. Their cash reserves are such that they do not want to part with the amount that it would take to buy the home they want and have no mortgage. Having no monthly payments would be a relief.
Reverse Mortgage to the rescue: Depending on their ages it might be less, but a reverse mortgage only requires the couple to put half down.(this is an approximate) The older the youngest of the couple is the less they put down.  Yes, I said that, no monthly payments.
Many times I have mentioned reverse mortgage to a senior friend. Most of the time they quickly reject the thought. There is much misinformation in peoples minds.. The feds stepped in a few years ago to curb the abuse that hit many. Truly, there are times when the best solution and maybe the only solution for folks was a reverse mortgage.
There are a lot of questions to ask that I don't cover here. Contact me and I will help you figure them all out to see if it is the answer for you, a friend, or a family member. I can refer you to a dependable reverse mortgage specialist.