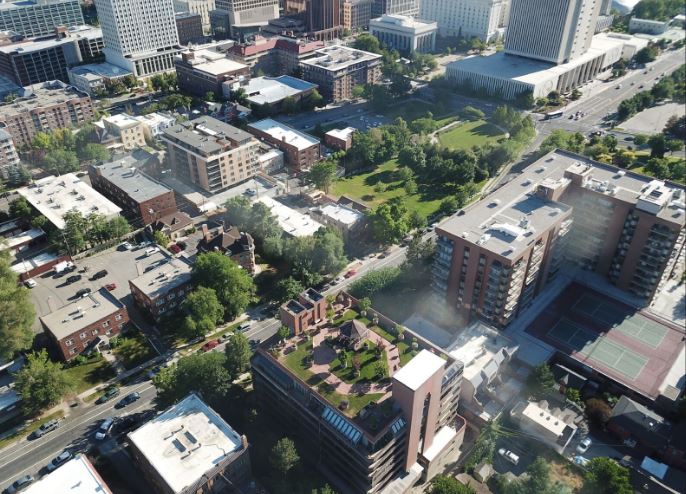 Garden Towers is seen in the drone shot at the vey bottom. It is about 38 units. The owners manage it themselves. Notice on the roof is the garden. On each corner is a Bar B Q. It has a gazebo and several places to just hang out. The roof can be reserved. Their is a variety of units and floor plans and some are terrific.
Canyon Road Towers is to the right in the photo. It is larger, 185 units, and very popular. It has an indoor swim pool and exercise room. It has two social rooms. It has tennis courts. It is well managed. Some of the units are in original condition and some are remodeled. Some of the views are spectacular.
Zion Summit is directly north of temple square, two towers behind the LDS conference center. The swim pool is outdoors. It has a large entry which invites socializing. Zion Summit seems to encourage socializing, even has a social committee.
All three of the buildings are popular for the easy access to temple square and City Creek Mall.
American Towers, South of City Creek, is very popular with those that are wanting a downtown city feel. Theaters are next to it as well as great places for eating out. Its rooftops are a great place to entertain and hot tub with a view. It is large enough to afford full time security. It has racquetball courts.
Terrace Falls is on 3rd Ave directly behind Garden Towers. The facility has a shop to die for. Some of the floor plans are great for people wanting two master bedrooms. Terrace Falls is a terrific property.
Trevi Towers abuts Zion Summit. Most of the floor plans are large and the units facing South have wonderful views. It has an indoor pool.
This website has great search engine. I invite you to search in the search bar or to take advantage of the quick and useful links searches which I have established. Some are by building and some by location. I enjoyed it when one of my colleagues called me "the condo king". I have sold condos from North Ogden to Daybreak. Selling condos is not like selling houses. I you to encourage you to choose me in helping you buy or sell a condo.
This link goes to the category that pulls up all of the articles I have written about condos: click here.