As of this posting there are nine luxury condominiums in Salt Lake City Utah on the market. We define Luxury as priced at $1,000,000 or more. Why that price? It is the required price to fit into our membership into the Leading Real Estate Companies of the World, Luxury Portfolio International. See this article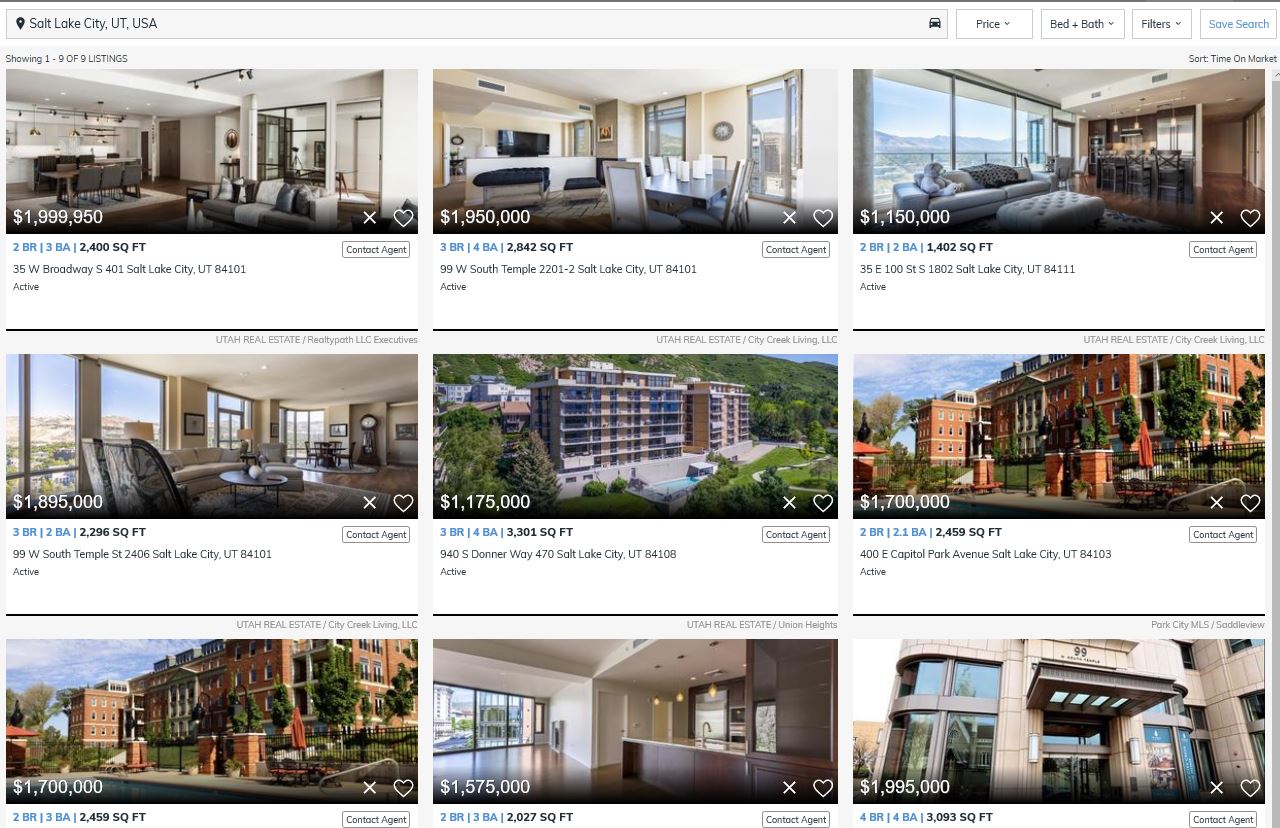 Six of these homes are downtown, one is in up by the Hogle Zoo (Donner), and two are in the Avenues. I have one potentially coming on line right around 1 million with a stunning view and one that is a very large unit, yet only two bedrooms. The view is spectacular.
To get a current search for 1 million or more, condo, Salt Lake City, click here.
About the Condo's at  City Creek. Two of these six in downtown are in the three condominiums around the shopping center. They are posh. Most are small. One in todays search is square feet at $1,150,000. The larger unit is priced at $1,895,000. It is 3 bedrooms and 2296 square feet in size. The developer tells us that they are now over 90% sold out. If you drive by after dark you will notice that far less than 90% have their lights on. One might therefore conclude that many of the owners own as sometimes marketed as a "Perfect weekend retreat" Some are so small that it's likely that the purpose is to be a perfect weekend retreat. All come with parking stalls, a few have two, and some stalls are more prime than others.
See more about downtown condos in this link, click here.  

Luxury Portfolio International is the a ward winning website for members of Leading Real Estate Companies of the World Luxury Portfolio International. An exclusive in Utah for Windermere Real Estate is our membership in Leading Real Estate Companies of the World and its website Luxury Portfolio International.
My experience, my wife and partner Kathleen's experience, plus our commitment to the amazing Windermere package of marketing tools gives us the edge in marketing  your luxury home. Contact can be made at 801-244-166 or by text at 206-618-3724 or email: larry@cragun.net
If you are selling a luxury home this is one of our assets that sets us apart from what I believe to be one of two companies with the most credible luxury marketing plan in Utah. Our advertising package is another, I will post on that soon and make it available for you indiviually,  as a package I can mail to you. It shows that we go to great expenase and the broad reach we have in selling luxury homes.
(LeadingRE) is the home of the world's market-leading independent residential brokerages in over 70 countries, with 565 firms and 130,000 sales associates producing over 1.1 million transactions valued at $372 billion annually. Our by-invitation-only network is based on the unparalleled performance and trusted relationships that result in exceptional client experiences.
There are over 4,300 offices and 130,00 sales associates in 70 countries.
Its brand is recognized: 
Additional Highlights
More #1 market share companies in top markets than any network.
12 of the top 25 real estate companies in the U.S.
More sales among the top 500 U.S. brokerages than any network.
Top-rated luxury real estate program.
Award-winning learning platform, Institute, recognized by Training Magazine
Luxury Portfolio International®
Luxury Portfolio International® ­­– the luxury face of Leading Real Estate Companies of the World® – is the brand recognized throughout the world as the luxury standard of excellence.
Windermere is the exclusive Utah member. Only homes priced at 1 million or more qualify to be marketed by Luxury Portfolio International.
This is only one of the important ways we sell your luxury home.  We are proud to be associated with Windermere Real Estate and the 200 firms world wide affiliated with luxury Portfolio who are all members of LeadingRE, the most well-respected and well-known experts in luxury real estate in markets world wide.
Posted on March 8, 2019 at 8:34 pm
Larry Cragun
Category:
Luxury Homes