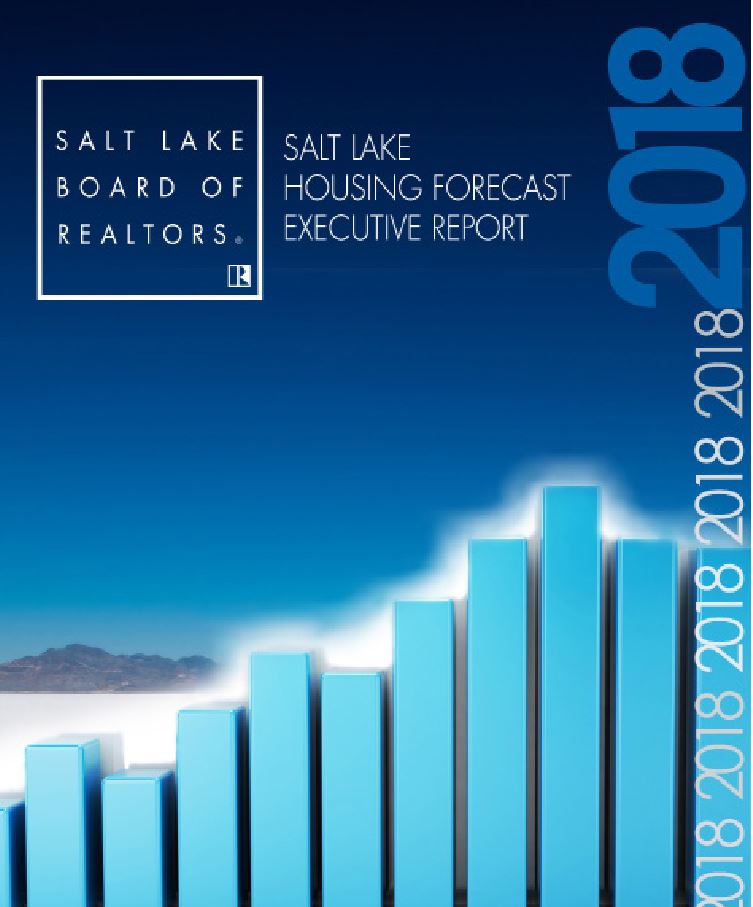 2018 HOUSING FORECAST
2018 Salt Lake County Residential Real Estate Market Last Year Was the Fourth Best Year in Overall Home Sales and Biggest Year Ever for Multifamily Sales. By James Wood Ivory-Boyer Senior Fellow, Kem C. Garder Policy Institute, University of Utah Commissioned by the Salt Lake Board of Realtors ® Salt Lake County's residential real estate market benefited from another year of strong demographic and economic growth and very favorable mortgage rates. For the sixth consecutive year the average mortgage rate was below 4 percent. Recap of 2017 A year-end snapshot of Salt Lake County's real estate market compared to 2016 shows:® Single-Family Sales • 13,293 single-family homes sold, a slight decline of 3 percent. • The median sales price of a single-family home at $325,000, up 10 percent. • The value of single-family sales at $4.9 billion, an increase of 8 percent.
Multifamily Sales: (Condominium, Town Home and Twin Homes) • 4,500 multifamily units sold, up 4 percent. Biggest year ever in multifamily sales. • Median sales price of multifamily unit at $225,000, up 11 percent. • For the first time multifamily sales exceeded $1 billion dollars. Salt Lake City, West Jordan and Sandy are the Top 3 Cities for Highest Home Sales The combined sales in 2017 of single-family and multifamily homes in Salt Lake County totaled 17,804 units, the third highest year ever. Only during the two years preceding the Great Recession (2005-2006) and 2016 were residential sales higher Figure 1. Salt Lake City captured by far the largest share of residential sales activity with nearly a 25 percent share; a total of 4,213 homes, far ahead of other top ranked cities. The next four highest ranked cities in number of home sales were: West Jordan (1,796 homes), Sandy (1,617 homes), West Valley (1,499 homes) and South Jordan (1,437 homes).
2
The Median Income Can Still Afford 65% of the Homes Sold in Salt Lake County The median sales price of a single-family home in Salt Lake County increased by 10 percent in 2017, marking the sixth consecutive year of price increases Figure 2. Since 2011, the median sales price in Salt Lake County has increased by 50 percent, moving up from $216,431 to $325,000. Housing price increases in the county rank among the highest in the U.S.
CLICKING HERE CAN TAKE YOU TO THE FULL FORECAST WITH CHARTS.