Garden Towers In Downtown Salt Lake City
One of the finer Salt Lake City Condominiums is Garden Towers. It is located close to Temple Square, City Creek, Parks, restaurants, TRAX, Memory Grove, and  walking trails. It is also just a few blocks to Salt Palace, Energy Solutions Arena, and The Gateway Mall. The address is 141 E 2nd Avenue 84103. As North Temple crosses State Street it becomes 2nd Ave.
Is there a Garden Towers unit for sale? Not always, click here to find out.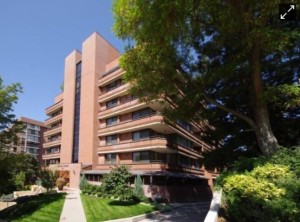 The unit mix consists of 1,2, and 3 bedroom units and Penthouses. Each unit has a private balcony except one penthouse unit which gained permission to close it in. An interesting point on doing this, is that as little as people use their balconies, they are an important factor in a resale.
The top floor, floor nine is divided into four penthouse units. They are at least 2500 square feet. Two of these have sold in the last 18 months or less. One sold for $625,000 the other sold for $450,000 and needed a complete make over.
The smallest that has been for sale is a one bedroom plus a den for $209,000.00 I showed it many times and it just wasn't what people wanted. It had no view and probably should have been presented better, different wall paint and other staging type efforts.
One great part of Garden Towers is the rooftop garden. It's a very nice summer feature. I have seen people reading books in the Gazebo and others just out enjoying the view from the park like roof setting.  You can BBQ at each corner of the roof, hold weddings there, or have a private conversation. Speaking views, some have great views, some do not. With most buyers, views are important as they are a possibility in many of the condominiums in downtown Salt Lake City.
Parking is ideal, each unit with at least one stall. It is secure, indoors and the stalls are spacious.
For those who want to purchase with an FHA reverse mortgage or buy with a low 3.5% down the complex is not FHA approved.
Monthly HOA fees range from $205 per month for the smaller units to $530 for the penthouse units. The HOA fees include water, sewer, garbage, and basic cable. It does not include electricity. The building owners manage the HOA themselves.
Like many of the nicer properties the HOA does not allow pets, and where some restrict rentals Garden Towers prohibits rentals.
They are building a website but at this moment it has not content. Its link is here: http://www.thegardentowers.com/